CBS News' Jeff Glor '97 to emcee Mirror Awards ceremony June 9
CBS News anchor and correspondent Jeff Glor '97 will serve as master of ceremonies at the 10th annual Mirror Awards ceremony June 9 in New York City. Hosted by Syracuse University's S.I. Newhouse School of Public Communications, the event will include the presentation of six juried journalism awards and two special awards. Tickets or tables may be purchased online.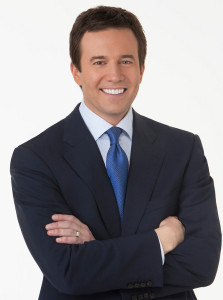 Emmy Award-winning journalist and Newhouse School alumnus Jeff Glor has been with CBS News since 2007. Anchor of the Sunday edition of the "CBS Evening News," he has also anchored the Saturday edition of the "CBS Evening News" and "The Early Show," and files reports for "60 Minutes Sports."
As a correspondent, Glor has traveled extensively to report on some of the biggest domestic and international stories of the past 15 years. He has covered the Boston Marathon bombings, the shooting at Sandy Hook Elementary School in Newtown, Connecticut, Hurricane Sandy's landfall in New Jersey and the Aurora, Colorado movie theater shooting.
Glor also reported live from Norway after the twin terror attacks in 2011. He was one of the first journalists on the ground in Haiti following that country's devastating earthquake in 2010. He reported from Iraq in 2007, where he was embedded with the U.S. military. Glor also covered the 2008 Olympic Games in Beijing and the 2010 Winter Games in Vancouver. In 2008, Glor was a lead member of the CBS News team that covered Pope Benedict XVI's historic visits to Washington, D.C., and New York City. He was also the primary campaign correspondent for "The Early Show" during the 2008 presidential election.
Before joining CBS News, Glor was the weekend evening news anchor and a weekday reporter for WHDH-TV Boston. He began his journalism career at Syracuse's WSTM-TV, and was named "Best Male News Anchor" by the Syracuse New Times.
The Mirror Awards are the most important awards for recognizing excellence in media industry reporting. Established by the Newhouse School in 2006, the awards honor the journalists who hold a mirror to their own industry for the public's benefit.
Award categories include:
Best Single Article – Traditional/Legacy Media ($1,000 prize)
Best Single Article – Digital Media ($1,000 prize)
Best Single Story – Radio, Television, Cable or Online Broadcast Media ($1,000 prize)
Best Profile – Traditional/Legacy or Digital Media ($1,000 prize)
Best Commentary – Traditional/Legacy or Digital Media ($1,000 prize)
John M. Higgins Award for Best In-Depth/Enterprise Reporting ($5,000 prize)
In addition, the Newhouse School will present the Fred Dressler Leadership Award and the i-3 award for impact, innovation and influence.
The ceremony will be held at Cipriani 42nd Street, 110 E. 42nd St., from 11:45 a.m. to 2:30 p.m. For more information about tickets and sponsorships, see mirrorawards.syr.edu/tickets-and-sponsorships or contact Amanda Griffin at 315.443.7982 or algri100@syr.edu.