'Today' show contributing correspondent Jenna Bush Hager will emcee 11th annual Mirror Awards ceremony
By Wendy S. Loughlin
Jenna Bush Hager, a contributing correspondent for NBC News' "Today" show, will serve as master of ceremonies at the 11th annual Mirror Awards ceremony June 13 in New York City. The event is sponsored by Syracuse University's S.I. Newhouse School of Public Communications. Follow on Twitter at #Mirrors17.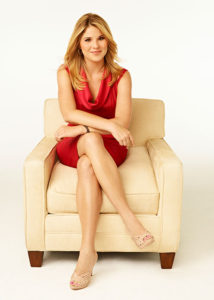 Hager, who joined "Today" in September 2009, covers a variety of human interest and feature stories.
She is a three-time New York Times best-selling author, and serves as the Young Leadership Ambassador and Chair for UNICEF's Next Generation committee, which aims to save, protect and improve the lives of children around the world.
Before joining NBC News, Hager was a reading resource teacher at a public school in Baltimore. She also worked for UNICEF in Latin America and the Caribbean, where she documented the lives of children in need. Hager began her career as an elementary school teacher in Washington, D.C.
Based on her work with UNICEF, Hager wrote, "Ana's Story: A Journey of Hope," the true story of a 17-year-old single mother living with HIV in Latin America, which serves as a call to action for kids of all ages to make a difference in the fight against poverty, abuse and HIV/AIDS. Since the book's publication, Hager has given over 50 speeches at libraries, schools and bookstores across the country to share the inspirational story of Ana and raise awareness about programs that benefit children in need.
Hager's second book, "Read All About It!," is a picture book co-written with her mother, former First Lady Laura Bush. The educational children's book was inspired by their mutual love of reading and teaching. In 2016, Hager and her mother teamed up again for "Our Great Big Backyard," commemorating the 100th anniversary of the National Park Service.
Hager is an editor-at-large for Southern Living magazine and has also written articles for The New York Times and CosmoGIRL!
In 2011, Hager was honored as one of Glamour magazine's Women of the Year, alongside her mother and her sister, Barbara.
The Mirror Awards are the most important awards for recognizing excellence in media industry reporting. Established by the Newhouse School in 2006, the awards honor the journalists who hold a mirror to their own industry for the public's benefit.
In addition to four juried journalism awards, the Newhouse School will also present the Fred Dressler Leadership Award and the i-3 award for impact, innovation and influence.
The ceremony will be held at Cipriani 42nd Street, 110 E. 42nd St., New York, from 11:30 a.m. to 2:15 p.m. For more information about tickets and sponsorships, contact Amanda Griffin at 315.443.7982 or algri100@syr.edu. Media inquiries should be directed to Wendy Loughlin at 315.443.2785 or wsloughl@syr.edu.