CNN anchor Alisyn Camerota will emcee the 13th annual Mirror Awards ceremony
CNN anchor Alisyn Camerota will serve as master of ceremonies at the 13th annual Mirror Awards event June 13 in New York. The awards, sponsored by Syracuse University's S.I. Newhouse School of Public Communications, honor excellence in media industry reporting.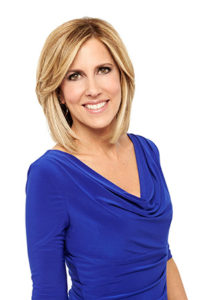 Camerota is co-host, with John Berman, of CNN's flagship morning program "New Day." During her tenure at CNN, she has covered breaking news stories on the ground both internationally and domestically, including the Paris and Brussels terror attacks, the royal wedding and the shootings at Tree of Life synagogue in Pittsburgh and Marjory Stoneman Douglas High School in Parkland, Florida. She was on the forefront of CNN's coverage of the 2016 elections, interviewing the Democratic and Republican nominees and many of the primary candidates. She has also anchored several primetime specials.
She is the author of "Amanda Wakes Up," a novel based on her experience in the news business.
The Mirror Awards ceremony will be held from 11:30 a.m. to 2 p.m. at Cipriani 42nd Street. Event tickets and tables may be purchased online.
The Newhouse School will honor Jeff Zucker, president of CNN Worldwide and chairman of WarnerMedia News and Sports, with the Fred Dressler Leadership Award, presented by David Zaslav, president and CEO of Discovery Inc. Twitch will receive the i-3 award for impact, innovation and influence. Juried journalism awards will be presented in six categories. View the finalists>>
About the Mirror Awards
The Mirror Awards are the most important awards for recognizing excellence in media industry reporting. Established by the Newhouse School in 2006, they honor the reporters, editors and teams of writers who hold a mirror to their own industry for the public's benefit.
For more information, contact Amanda Griffin at 315.443.7982 or algri100@syr.edu. Media inquiries should be directed to Wendy Loughlin at 315.443.2785 or wsloughl@syr.edu.
Follow on Twitter at @MirrorAwards and #Mirrors19.